Recover deleted files with Tenorshare
---
Do you want to know how to recover accidentally deleted files from your computer? With Tenorshare 4DDIG you can do it.
di Antonio Lamorgese
---
How many times have you ever deleted important files from your computer, or empty the trash by mistake? Well I'm sure it will have happened to you at least once. Quiet happens even to the most experienced users. And in these cases the question is: "Is it possible to recover files that have been accidentally deleted from my computer?" Luckily Yes. In fact, thanks to a free software, available for both Windows and MAC, you can recover deleted files in a very short time and in total safety. The software that comes to our aid in these cases is Tenorshare 4DDIG. Let's see in detail how to access the official website, install it and use it to recover files deleted from your computer.
1. Install Tenorshare
The first necessary step is to access the Tenorshare home page. To do this, just click on this link. Once you reach the official page of Tenorshare 4DDIG, you will be able to see all the main features of the software listed. In fact, as suggested on the home page, with Tenorshare 4DDIG, you can recover over 1000 different file formats, on any platform with any operating system. What distinguishes Tenorshare 4DDIG, from other software of the same category, is the ability to recover deleted files even from formatted devices or on which the partition has been lost.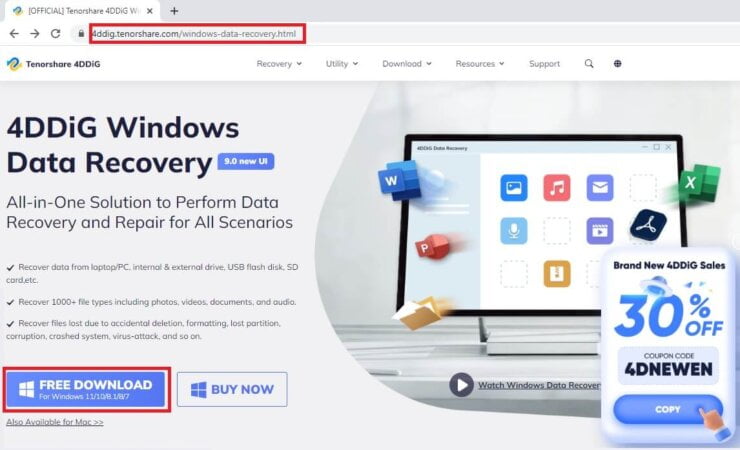 To recover accidentally deleted files you need to download and install Tenorshare 4DDIG. To download the software, just click on the "Download Free" button and, once the download is complete, proceed with the installation of Tenorshare. What you have to pay attention to, before installing the program, is that you must avoid installing it on the same media that contains the data to be recovered. This is to avoid further corruption of lost or accidentally deleted data. As suggested also during installation by Tenorshare.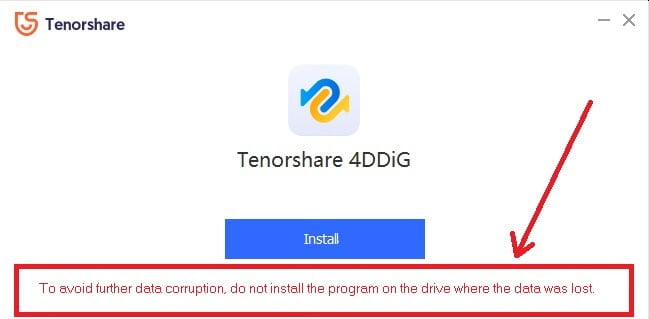 At this point, click on the "Install" button and proceed with the installation of Tenorshare. Once the installation process is complete, the software is ready to be used.
---
Read more: How to repair corrupted USB drive
---
2. What Tenorshare can do for you?
As I already told you, with Tenorshare, regardless of the reason that caused accidental data loss, you can recover deleted files of any type and on any storage media. Even if your computer is infected with a virus or your hard drive has lost its partition, the software can recover all your inaccessible data.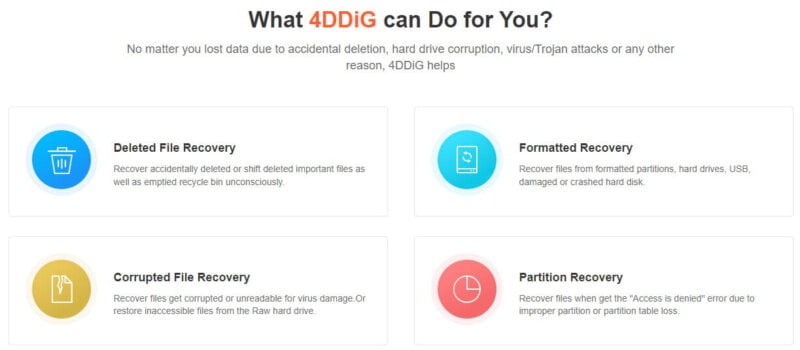 3. What you can recover?
By now, all our devices are a mine of information that we accumulate every day both for work and for fun. So it is easy that hundreds of photos, taken every day, video and audio files, such as movies or music, are saved on our computers every day. To all this are added the countless Office files that we use for work or study, and which are of fundamental importance to carry out our daily activities. Just think of how many emails we receive every day. Losing this data would be a huge problem. From the information shown in the figure, you can see that all these files in their many available formats can be recovered with Tenorshare.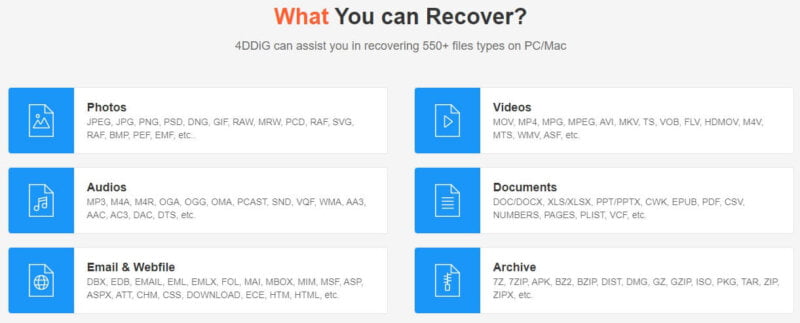 4. How to recover deleted files with Tenorshare
Once Tenorshare has been installed, you can proceed with the recovery of deleted files. Then, after starting the program, all you have to do is select path or drive to be recovered, and start the scan by clicking on the "Scan" button.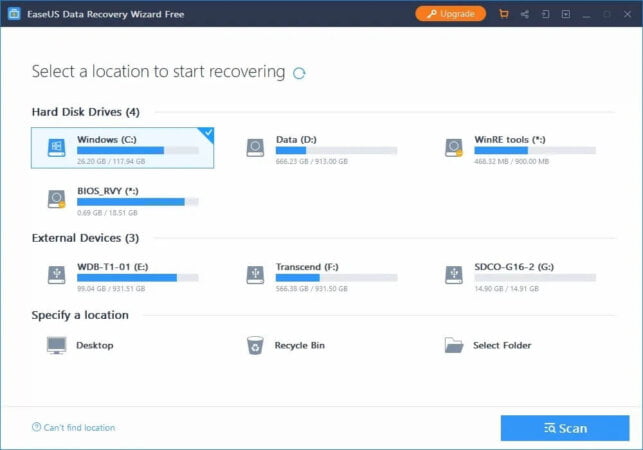 After confirming that you want to scan the selected drive, the software asks us for the type of file we want to recover. That is, if you need to recover video files, just leave the only item corresponding to the video files active and proceed with the scan and search for this type of file. Nothing prevents you from clicking on the "Scan all file types" button and proceed with scanning any type of file accidentally deleted from the selected drive.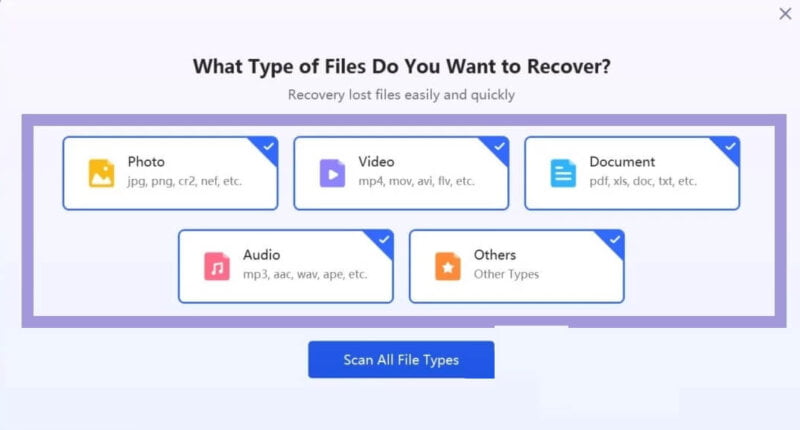 Now, you can proceed with the recovery of deleted files by clicking on the "Scan selected file types" button. Even before completing the drive analysis process, Tenorshare will list deleted and recoverable files as the scan proceeds. Then, you will be able to analyze the recoverable files, without waiting for the entire scanning process to complete.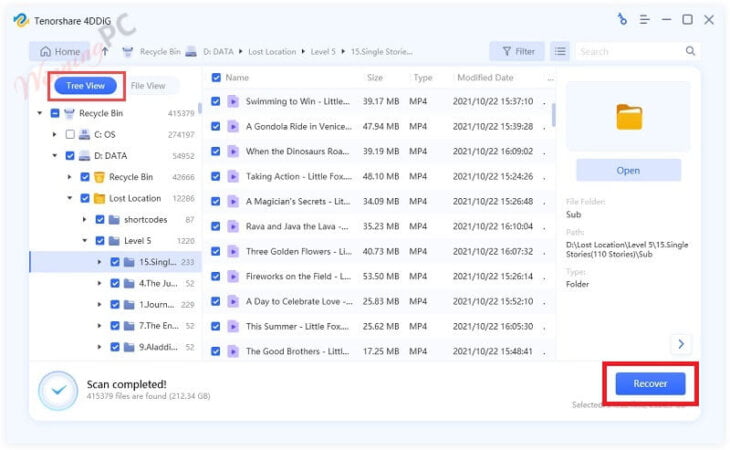 To recover deleted files just select them and click on the "Recover" button. The software will then ask you to indicate the path and drive where to save the files selected for recovery. Click again on the "Recover" button, the procedure for recovering deleted files will begin and, after a few minutes, all the selected files will be recovered and restored to the drive and path indicated above. Note that the file recovery procedure can begin before the scanning phase ends. Hence, you can recover deleted files, even during the scanning procedure.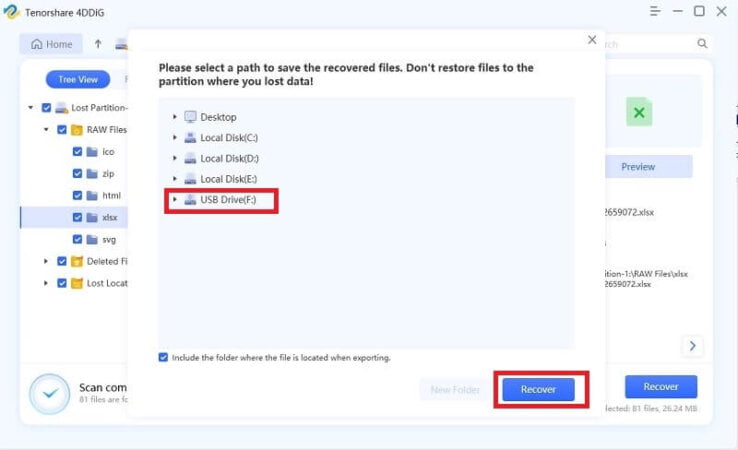 5. Conclusions
Tenorshare is considered the best tool for recovering deleted files available for both Windows and MacOS users. The software is of the All-In-One type, that is, it has everything you need to be able to restore deleted files from formatted or corrupted drives. In this video tutorial you can see Tenorshare in action and appreciate its amazing features.
---
Read more: How to download books for free
---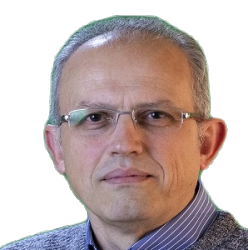 Latest posts by Antonio Lamorgese
(see all)