how to make money with photography and ClickASnap
---
Do you know that you can make money by sharing your photos? Would you like to do it? Discover one of the best paid websites for sharing photos and images.
di Antonio Lamorgese
---
If you have a passion for photography, and when you travel you love to photograph the landscapes you see, the happy moments spent with your friends. And share all your photos on social media and so on. Do you know that you can earn money by sharing these photos? Would you like to do it? Continue reading this article and you will find out how to make money with photography with ClickASnap, one of the best paid websites for sharing photos and images.
All you have to do is publish your photos, in short, you must be active, in this way you will attract a lot of traffic on your shares and it will be this traffic that will bring you the much deserved earnings.
The platform already has millions of subscribers all of your potential followers who will be able to follow you and put the long-awaited like on your photos, but above all they will be able to see them.
So if you post, interact and send traffic to your profile, as you generally do with the most popular social networks, you will earn money. It's like YouTube that pays for each view, in fact, the principle is the same, with the difference that ClickASnap is more generous.
ClickASnap pays $ 0.0018 per view. At first glance it is not so much, but compared to other platforms, such as youtube, the earnings are greater.
how to make money with photography
There are thousands of opportunities offered online for photography enthusiasts, of course you must aim for quality, this factor for online content is increasingly important.
I'm not saying that your photos are not of excellent quality, but sometimes, especially for a beginner in photography, you run the risk, for fun, of underestimating excellent shots that if shared, on the web or on social networks, could be very profitable.
Here it is the same. On this platform we can publish our photos and earn money.
On ClickASnap you can associate your material to different categories, starting from travel, landscapes, animals, lifestyle. You can share your thoughts and opinions about others' photos on your profile.
It's not that different from Instagram, although there are fewer features. Either way, it's something extra and can even become profitable if you get a lot of Likes.
ClickASnap: What it is
If photography is your thing or you just want a profile to share pictures, this is the portal you can use to get extra cash.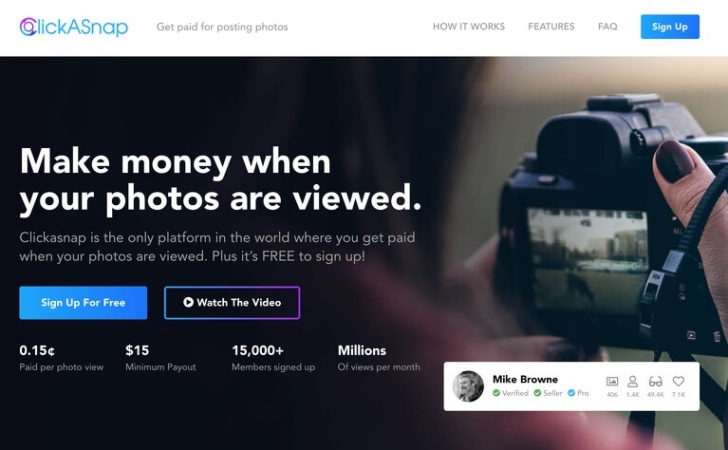 The site is designed for people interested in working from home by offering talented photographers the opportunity to make money. If you wish you can be one of them.
Plus, you can interact with them and watch how they work on the platform to be even more successful. Would you like to know how it works? How can you be part of it? Well it's not difficult but let me explain the ClickASnap system in detail.
How ClickASnap works
ClickASnap allows you to upload your photos. Therefore it is forbidden to post if you do not have all the rights. In the event that someone claims the copyright on the material you share, you will be banned. There is no limit to the type of subjects photographed, with the exception of nudes and violence.
You can share photos of your family or travel photos, including objects. So you can promote them or even sell them if you want. Therefore the portal is also transformed into an online sales platform.
I suggest you browse the pages of the portal, it's easy, and it's a good way to learn more. Follow others and like their photos, this will help you to be more and more visible and to acquire more authority.
On the site, interactions will be a good opportunity to share tips and to collaborate on commercial or social projects. The company is based in the UK but is open to people from all over the world.
This earning opportunity is tailored for amateur photographers who want to grow their audience, experiment, and earn a few extra dollars. You can open your horizons because it is full of artists from all over the world sharing different images made with a huge variety of methods and features. Even if you're new to photography, you have a way to earn extra income doing what you love.
The free account allows you to do this. Every time someone views your photos you'll get paid, but a view is counted when people look at the photo for at least five seconds.
This is the minimum time and it makes the platform understand that the content is of quality and likes. There is also an upload limit: 7 photos per week and 100 photos in total.
If you pay, you will have the Pro account available, and you can benefit from unlimited uploads. Its cost is $ 2.59 per month, compared to $ 2.07 for annual payments. If you want to sell the photos, you have to pay almost $ 13 a month.
The update will allow you to have the promotion of your photos plus other tools and bonuses. Either way, start with a free account, then you can upgrade to the Pro plan later.
How much can you earn?
There are multiple ways to earn money. The simplest, but least profitable way is to post photos and get views. This gives you the option to sell prints of your photos or allow customers to download a digital copy of the image.
The price is up to you, but the site gives you some pointers to be competitive. If you sell printed photographs, customers will pay the shipping costs and you will not be responsible.
The first step is to post your photos and get views. But remember not to send traffic using bots to your photos, otherwise you will be banned. Obviously this is not allowed.
How to make money with photography on the platform? They will give you $ 0.0018 per view. That doesn't sound like much, but it's the best offer among the paid sites and it all depends on the traffic. The more traffic you can divert to your photos, the more you earn.
When you reach $ 15 you will be notified and just click on the button to request payment. The money will be in your Paypal account within 24 hours.
What users say
ClickASnap members are satisfied with the site, also because they can share their photos which are displayed in high quality for all users.
The ratings of the platform are high and users emphasize how useful it is to be part of it to seize new opportunities. Additionally, you can add links to your social and blog profiles, so you can send traffic to make money but also get traffic to your web pages.
Why use ClickASnap
Let me tell you the reasons why you should sign up. Don't worry, I will not get any commission from this, I am only interested in giving you the opportunity to make money online with one of the most profitable systems on the web today. However, I have other interesting information to give you about the platform:
ClickASnap staff is efficient and available to answer any questions quickly;
The website is updated and improved often to provide more tools to users, so you can sell easily;
All rights to your photos remain with you;
The platform includes protection for the photographer's work, no one will download or copy them and use them without permission. You can also put a sign;
On the site there is a marketplace with a search function, it is easy for potential buyers to navigate to find the work you will upload;
All photos, even those on sale, organized into categories to help users find what they are looking for;
These elements can help you understand how to make money with photography on the platform. But there are other things to consider as well.
The negative aspects of the platform
It looks like a contender for major social networks, but it's still too young to be. So ClickASnap has less functionality than a social network and the site is still not as popular as Instagram can be. But their support is far better than the others.
Final considerations
You can easily earn money with your photos using the platform. But this is not the main goal. It was designed to be a window to the world for photographers.
Along with traffic, money and likes you get motivation and this is a great support to grow and improve your skills.
ClickASnap earnings become important when you grow and get lots of views. This will have a more important meaning. People will love your job. You may not get rich, but you definitely have a great chance of becoming popular in the industry. Also you will get extra money.
Earn online with photography
You've learned another opportunity on how to make money online photography. But this is not the only system you need to use to increase your budget. If you want to develop your passion and make people aware of your photos, you should start a blog.
So it's good to promote your business across multiple social platforms. Having a successful website can help you share and sell your art.
You can make money while traveling by taking pictures of great places and selling them over the Internet. Money and world exploration are a good combination for a free and rewarding life. This is just an example, no matter the subject of the images, you just need an online marketing strategy. You can also use affiliate marketing to increase your revenue early on.
Sign up for a platform like Admitad to find the best companies, participate in programs and promote them on your pages. For example, you can talk about cameras and accessories, so that you receive commissions from brands as you promote them.
---
Read More: Photo editing free basics
---
Conclusions
What else? Register and go to the ClickASnap login to start your adventure. Get views and money, become famous online. Once done, copy the link to your profile and share it. Put it on your social profiles, in your emails, send it to your friends via WhatsApp. Run promotions, so they can follow you and view your photos. Be active on the platform and, no doubt, you will grow!
With this video you will practically learn how to make money with ClickASnap without any effort and without investing a penny.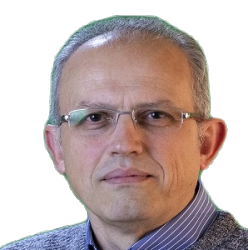 Latest posts by Antonio Lamorgese
(see all)