The best free keyword planner
---
Are you tired of looking for free keyword planner that aren't free? I present to you WordStream, the only free Tool.
di Antonio Lamorgese
---
If you publish content on the web, you know the importance that a keyword planner can have. This extraordinary and very useful tool allows you to carry out a complete analysis on the keyword that you have decided to associate with your posts. Logically, a blogger, however expert he may be, makes intensive use of this tool. Therefore it is necessary that, even those who declare themselves free, have no limits in the number of daily searches they can perform on one or more Key Phrases. Or rather, key phrases.
All the keyword planners I've used, even if they have free plans, are very limiting in this regard. Therefore, they are not fit for purpose. For example, Ubersuggest doesn't allow you to do more than 3 searches on a keyword per day. You can well understand that this limitation is very penalizing for a blogger. Like Ubersuggest, many other keyword planners also have more or less the same limitations. Including Google Keyword Planner.
Luckily after much research I found a really free keyword planner. I'm talking about WordStream . This online tool has three tools that it offers for free, and luckily, the keyword planner is one of the three. In the next paragraph I will explain how to access WordStream and how to use it.
1. WordStream the truly free keyword planner
As I anticipated, WordStream is the only free keyword planner I've found. It has no limitations of any kind and gives the right information, which every blogger is looking for, to best position their content. To use WordStream there is no need to download or install software on your computer. The only thing required is the internet connection only. In fact, WordStream is a service that can be reached on the "WordStream.com" portal.
Now, click on this link, and immediately access the keyword planner offered by WordStream.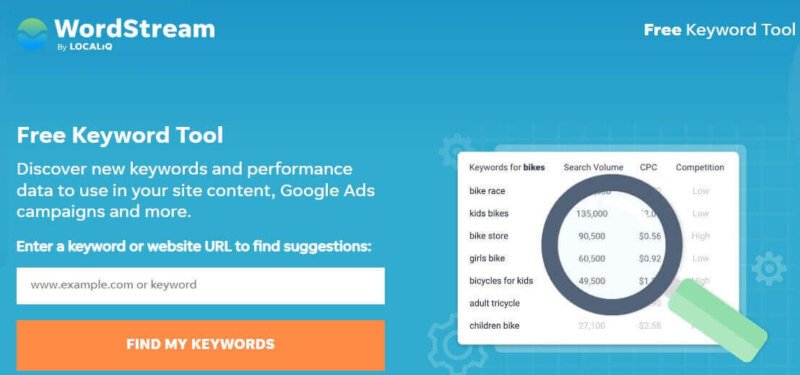 As you can see, the tool is very simple. In fact, the only data required to access keyword planner information is the key phrase or link of your post. In fact, if you pass a URL to WordStream, the keyword planner makes an accurate analysis of the content present at that address and shows you all the key phrases associated with that specific content. So it is a tool that not only carries out keyword research, but also analyzes content already present on the web. This feature is very useful for relocating content on the web by analyzing the keywords to which a post is associated, for example.
Now, type your keyword phrase in the text box on the home page and click on the "Find My Keywords" button. For the purposes of this guide I decided to insert the key phrase "Create app Android". WordStream, to refine the results, will ask you to indicate the country where you want to place your content. Then, choose the country and click on the "Continue" button.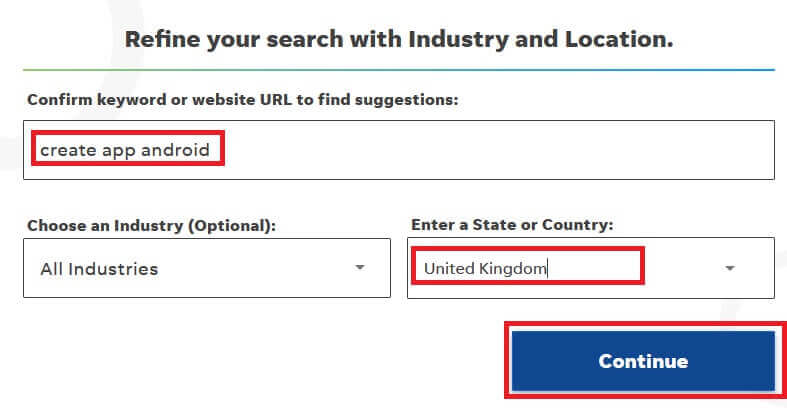 The system will return a list of key phrases, each with its own characteristics and peculiarities. At this point which one to choose?
---
Read more: How to create an android app step by step
---
2. How to choose keyword phrases on WordStream
After a careful analysis of the results provided by WordStream, you can see that the data has all the information necessary to choose the key phrase that comes closest to your expectations. Then you can write the content of your article respecting the SEO practices that every good blogger should know.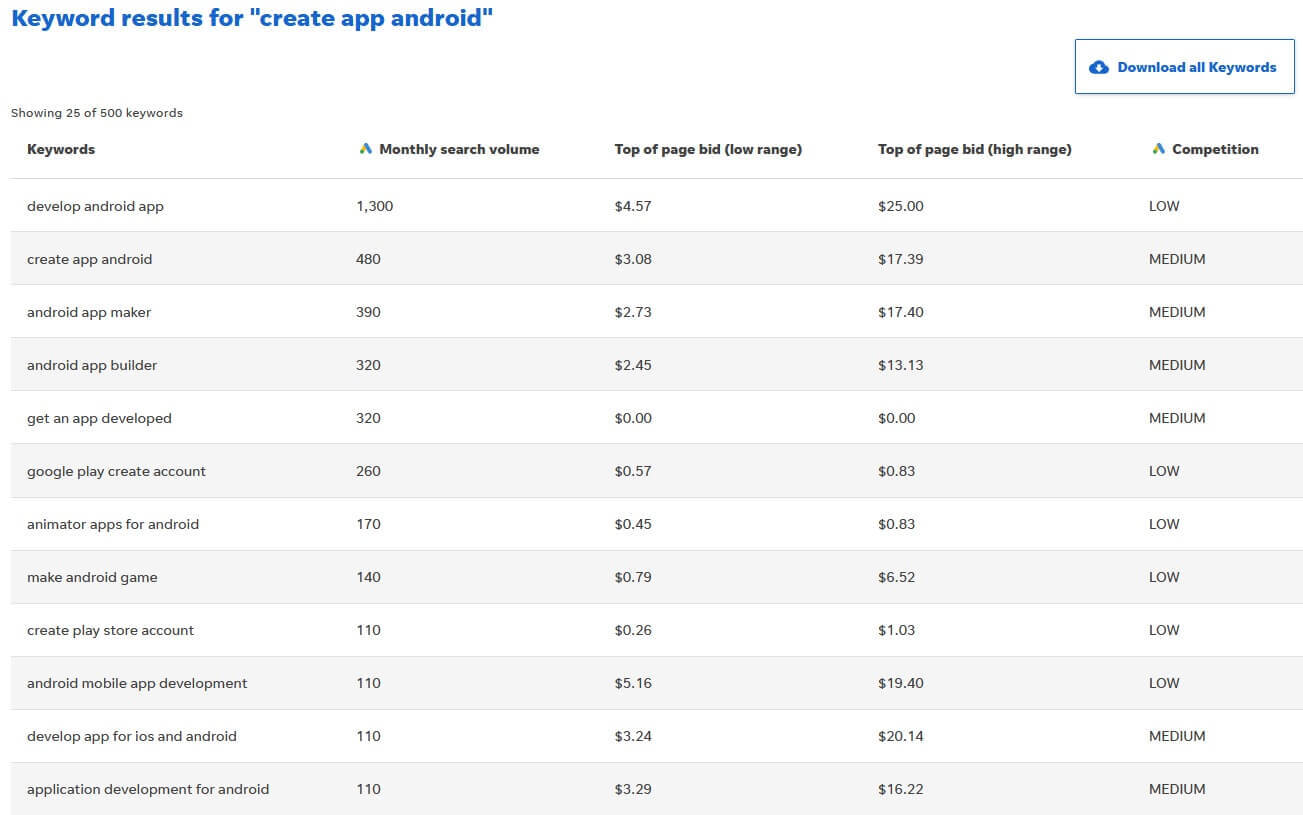 Analyzing the table of results, it is easy to understand that the key phrase you have to choose must meet three fundamental requirements:
a) must have a high monthly search volume, therefore, the value in the "Monthly search volume" column must be as high as possible;
b) must have a high value in the column "Top of page bid (low range)", or, "Top of page bid (high range)";
c) it must be uncompetitive. Therefore, the "LOW"value must be present in the "Competition"column.
If you choose a keyword phrase with these three characteristics, your content will receive the expected visits and traffic to your blog will increase enormously. Not only that, but your authority on the web will also grow.
Logically, returning to the top of the results screen, you will be able to carry out other analyzes and searches by specifying a new keyword phrase and clicking again on the "New Search" button.
3. Get Full access with a FREE account
WordStream, is a completely free Keyword Planner. It includes two types of access to the results returned by the system. You can use WordStream without registration, or, by registering, using a FREE account. Logically using WordStream without authentication limits you to the first 25 results. But if you register for free you can get full access to everything without limits. The only requirement is a free registration on the portal.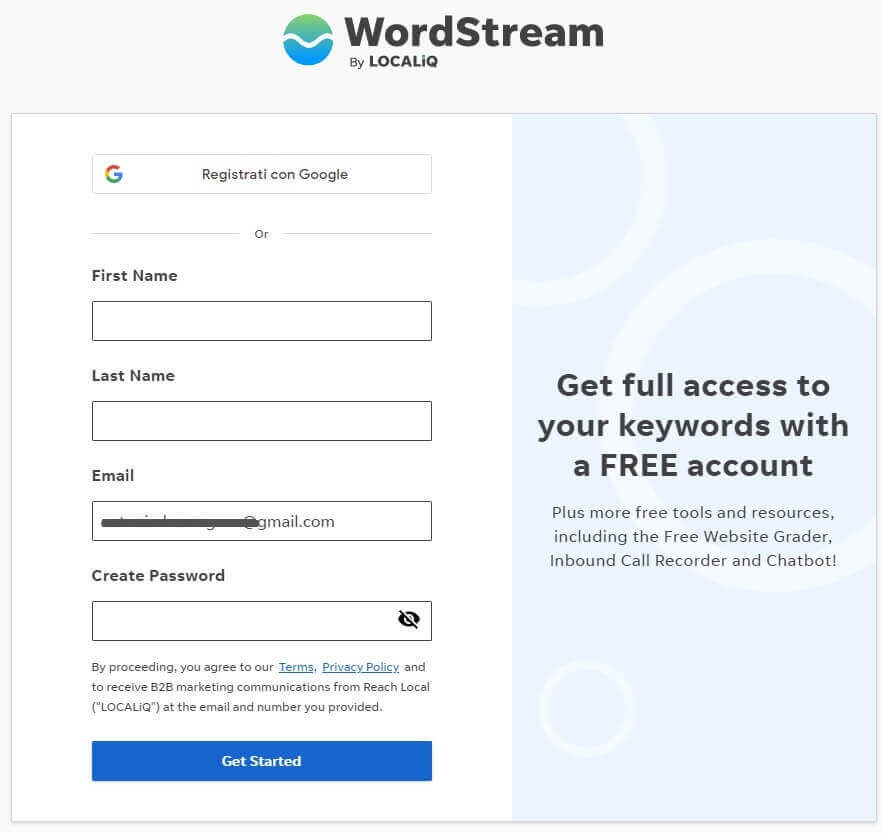 4. The importance of WordStream and SEO for a blogger
WordStream, like all keyword planners, represents the fundamental tool for the correct positioning of your content on the internet. It is not possible to write and post content on the web without using a keyword planner. Fortunately, WordStream offers you this service for free. Not a little thing. But know that, in addition to a keyword planner, the knowledge and application of SEO practices is of fundamental importance for writing content on the internet. In this regard, by following this video tutorial, you will be able to understand how to apply SEO to your content. By combining the results processed by WordStream with SEO techniques, you will get the right positioning that your content deserves.
---
Read more: How to create an android app step by step
---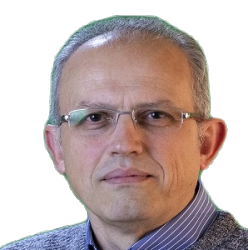 Latest posts by Antonio Lamorgese
(see all)