How to create a free youtube intro
---
A YouTube intro is a short video clip that plays before your video. The aim is to convey to those who follow you the curiosity to see the video by capturing their attention, using very innovative multimedia content as a well-made intro can be.
di Antonio Lamorgese
---
A YouTube intro is a short video clip that plays before your video. The aim is to convey to those who follow you the curiosity to see the video by capturing their attention, using very innovative multimedia content as a well-made intro can be.
Basically this is also what happens on TV with advertising video clips, in light of the fact that the skills of concentration in general will be significantly shorter on the web. So the times we have available for the intro are very short.
Making an introduction for a YouTube video is very similar to creating a YouTube video itself, and you can create one using a huge number of video editing software, as already explained in this article.
One of the most used strategies today is to use an online software, for which you do not need to install anything on your PC, this online software was explicitly created not only to make video presentations, but also has an excellent tool inside for the editing and video editing.
What makes an intro great?
A good presentation on YouTube can increase your authority on the web, increase subscribers to your YouTube channel and give a rough idea of what they will see in following the video.
However, while it is quite simple to transfer video recordings to YouTube, there are some factors you should consider before making an introduction.
The moment a subscriber to your channel watches one of your video recordings, the introduction is the first thing they see. This implies that the introduction has a huge impact on the entire video, so a poorly designed introduction can cause the viewer to give up and look for some other video to watch.
Here are some tips on the most effective way to make a decent presentation on YouTube:
Make it short: Long presentations can look good and fun, but you have to put yourself in the shoes of the video follower, meaning it's important that you don't get bored. In the event that an introduction is excessively long, the user may lose interest in the topic and close the video earlier than expected. Similarly, a user who is more determined to see a long intro until the end may be disappointed by closing the playback of the intro before playing the actual video.
Leave your Brand in the Intro: the most significant thing about an introduction on YouTube is to convey what you are watching, this is now well established. But also make sure your brand or brand is prominently included in your introductions.
Unleash your inventiveness – I'll show you the quickest, most effortless ways to make a very effective YouTube intro. Since you are at the beginning in the creation of your intros, but consider delving into the aspects that I will show you with the aim of being able to make an absolutely unique introduction that will distinguish you from the others.
How to make an intro for YouTube with Panzoid
The simplest approach to making an introduction for YouTube is to use a ready-made, ready-made online tool, as you don't need to download any additional software to install on your computer.
In showing you how to make your first YouTube intro I will use Panzoid. This is an online tool that allows you to make not only video presentations, but even make professional and high-quality video montages.
You can take advantage of the online assistance if you like it, however Panzoid is free, it does not require you to register on the portal and allows you to create introductions free of Panzoid brands and logos.
The instructions below show you the best way to make an introduction for YouTube using Panzoid with the Chrome Internet browser on a Windows 10 PC, however, Panzoid can be used with any browser and on Windows, Mac and Linux PCs. You can even use your smartphone's browser.
Here's how to make an intro for YouTube using Panzoid:
Open browser and navigate to this address: panzoid.com.
Click on Clipmaker.
Select the one you like best from all the clips shown.
or type in the search field the word "intro," and press "Enter" on your keyboard.
Here, too, choose a pre-configured intro that you like best.
If you don't find anything you like, please choose from the various categories proposed to see if what you want is present among the various models.
Click Open in Clipmaker.
Click on the 3D wireframe box in the menu at the top left of the page.
If the intro includes text, by default, select this text and edit it to your liking.
Once you've customized your intro, click on the eye icon.
Click on the play button to see the intro in action.
If you like it, click on the download icon (the icon shown in the figure below) in the menu on the left.
If you don't like it, go back and try another intro clip. There are tons of templates available, you can also use Panzoid's advanced editing system to create one from scratch if you want.
Select the desired mode and format and click Start Video Rendering.
If a pop-up window appears asking for permission to store data on the device, click Allow. Leave the web page open until the process is complete.
Click Download your video.
Watch your introduction and make sure it looks the way you want it.
Your intro video clip is now ready to be inserted into your video editing software of your choice to add it to the recorded video to post on your YouTube channel.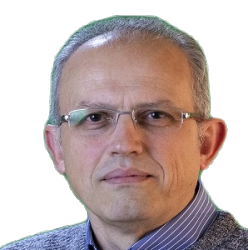 Latest posts by Antonio Lamorgese
(see all)